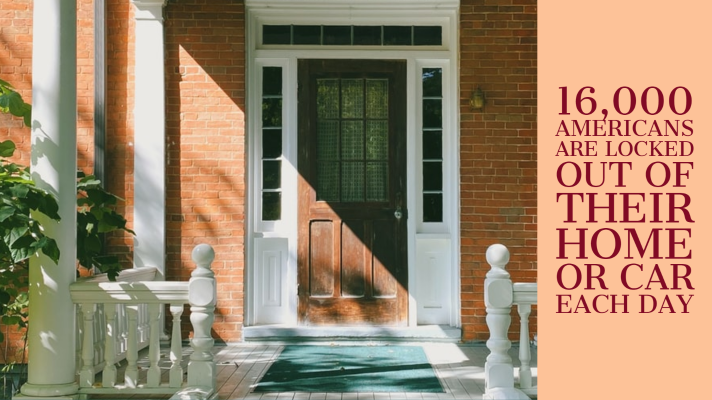 3 Ways to Get Into Your House When You've Locked Yourself Out
With over 16,000 lockouts of homes and cars occurring daily in the United States, it is quite probable it will happen to you someday (if it hasn't already).
Getting locked out of your home can be stressful and make you feel insecure. Reduce your stress by being prepared ahead of time. Expect that you may accidentally lock yourself out of your house one day, and have a plan in case it happens. Here's what you can do to prevent lock-outs and stay safer.
Extra Keys
Consider creating an extra key or two to give to a trusted neighbor or friend. You want to ensure that this is someone that can help you quickly. As much as you want to give your keys to your sibling in the next town over, relying on a trusted friend down the block might be more feasible.
Create multiple keys and multiple locations for them, if possible. Some people feel comfortable hiding a key in a secret place outside or keeping a key in the car, in their purse, or maybe a desk at work. Get creative and see what you can come up with. Do an online search for a local locksmith near me and they can create extra keys for you. If the day comes, you will be thankful for those extra keys.
Broken Key Extraction
Sometimes odd things happen, such as a key breaking off in your door. Now what? To prepare ahead of time, keep the number of your residential locksmith services in your wallet or purse. They are able to perform broken key extractions promptly and create a new key for you when you need it.
Time for a New Type of Lock
If you're not a fan of the traditional lock and key, why not consider a keyless entry door lock? Today's technology offers an abundance of options for keyless entry, including entry with an app on your phone, remote entry, and a touchpad on your door. Call The Local Locksmith Company to discuss these different — and very helpful — door locking options. That way, you'll never worry about a house key again.
Rely on Your Local Locksmith
As with most things in life, a plan is helpful. The Local Locksmith Company is the best place to start. Keep their number on hand (in multiple locations) for broken key extractions, key replacement services, and keyless entry options. You'll feel much safer knowing you have a backup.