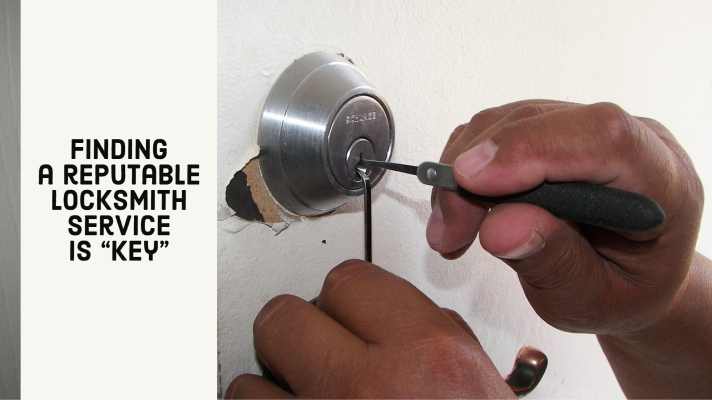 How to Recognize a Legitimate Locksmith When You're Locked Out of Your House
Per the U.S. Department of Labor and Bureau of Labor Statistics, there are nearly 24,371 businesses currently registered within the locksmith industry. There are certain times you may need a locksmith, especially when you are locked out of your house. Perhaps you lost your keys or you know exactly where they are inside your locked home. Regardless, locked out of house emergencies require residential locksmith services from a legitimate local locksmith.
Avoiding scammers, however, is a top concern. Here are some of the best tips to find a legitimate locksmith.
Don't Just Contact the First Locksmith You See Listed
Locked out of house situations require you to act fast. However, you should take certain precautions so you can be sure that the house locksmith you contact is legitimate. You don't want just any locksmith unlocking your home. The safety of you and your family could be compromised. There are ways you can ensure that locked out of house predicaments are handled properly.
Proof of Ownership Is Integral
An illegitimate locksmith will not request proof of ownership when asked to unlock a house. If you need your home unlocked, you want to make sure the locksmith you use is legitimate and follows a professional code of conduct. If a locksmith is okay with opening a lock before they have been satisfied that you're the actual owner of the property, you're using the wrong locksmith. It is integral that proof of ownership is required by a locksmith so malicious parties are kept from gaining access to your home. A legitimate locksmith is going to require that you have proof of ownership.
Real Locksmith or Scammer Locksmith?
Locked out of house troubles only get worse when you don't ask for proof of licensing from a locksmith. When licensing isn't required look for a local locksmith with a great reputation. You can search online and check out the locksmith reviews, websites, and local organizations such as trade groups. The Associated Locksmiths of America (ALOA) is the largest and most recognized organization that represents, documents, governs, and trains some of the best locksmiths. You can also protect yourself by making sure the mobile locksmith company has a legitimate physical business address. Cross reference all documents such as work orders and receipts to make sure that all company information matches.
Professional Locksmiths Use Covert Locksmith Methods
Dealing with being locked out of your home can be a stressful situation. It is important that you keep your wits about you and contact a reputable locksmith company that offers 24/7 emergency services. There are locked out of house solutions available that provide damage-free entry into your home with remarkable success. Top locksmiths have the ability to utilize locksmith tools and methods such as pop-a-lock airbags, professional lock picking, electric lock picks, and bump key services to help you gain entry into your home again.
Locksmith Specialists Offer Services to Better Protect Your Home
After you've either locked yourself out of your home, lost your keys, broken up with or divorced a partner, or your home has been broken into, you should consider changing your locks and adding a new deadbolt installation. There are many reasons you need a professional locksmith, and regaining control of your life is just one of them. You can order rekey services and those services accomplished the exact same day from locksmith specialists ready to help.
After Being Locked Out of the House You May Need Lock Repairs
Perhaps you tried to gain entrance to your home before calling a locksmith. Depending on how you tried to enter your home, you may require lock repairs. Even if you haven't been locked out of your home, maybe you are dealing with malfunctioning locks that suddenly don't work as they did before. A screw may be loose, or part of the mechanism in the lock assembly is broken. Even worse, maybe the key broke off in the lock while you were trying to get into your home. There are many reasons you may need lock repairs diagnosed by specialists. One thing remains clear: you require cost-effective and fast lock repair services that keep you safe.
When you're in need of top-quality locksmith services, rely on The Local Locksmith to get you out of a pinch.